Immigrating to a new country is a very stressful experience. The COVID-19 situation certainly isn't helping with making the experience less stressful. My wife and I recently got our green card, which means that for us most of the stress is now behind us.
My wife and I are super fortunate and privileged to have had Microsoft help us throughout the whole immigration process. Although we cursed the lawyers from time to time, the support we have gotten was fantastic. Another privilege we have is our country of origin. Green cards are allotted based on country of origin, and it's a lot easier for Belgians to get a green card vs Indians or Chinese.
I decided to write up our experience, in the hope it can help you navigate the complicated and stressful experience that is getting a green card. Please note that I am not an immigration expert, and this post in no way is advice for you. It's just me sharing my experience in the hope it helps you in your situation.
Hard facts
Country of origin: Belgium
Original visa: L1b (for me) – L2 (my wife)
Employer: Microsoft
Green card category: EB3
Timeline:

June 2018: Got L1/L2 visa
July 2018: Moved to USA
August 2018: Applied for EAD for my wife
December 2018: Received EAD for my wife (valid for 2 years)

June 2019: Microsoft submitted PERM / labor market certification
September 2019: PERM approved
December 2019: AOS (green card application) filed
February 2020: Fingerprint appointment
March 2020: EAD/AP combo received
March 2020: Update on USCIS website explaining our scheduled interview is canceled
October 2020: RFE received
December 2020: Green card approved
Lessons learned
You need a lot of patience.
Your visa and PERM are dependent on your job title. If you change jobs (even at the same employer) this will mess with your green card procedure.
My wife was allowed to work with her L2, given she had a valid EAD. Don't go job hunting immediately after immigrating, since the EAD process takes time.
Before you move, make sure to gather copies of important paperwork. Think about your birth certificate, marriage license, diplomas/degrees etc.
If you travel and enter the US with your L1/L2 visa, you need to always carry certain additional paperwork.
Our story
Pre-move
My wife and I both had international experience during our university education. My wife had a 3-month internship in Paris, whereas I traveled across Europe with an academic start-up I founded in the context of junior achievement.
We both enjoyed that international experience, and had the dream of moving abroad "at some point". When I joined Microsoft, one of my mentors mentioned that Microsoft supports you if you want to move abroad. This was a big seedling that nestled in my brain and kept growing.
At the end of 2017, my wife and I decided that 2018 would be the year we moved abroad; and I started looking for jobs with Microsoft in the US. Please know that although Microsoft supports an international move, there isn't a standardized program that moves you abroad. You rather have to look for a job and a hiring manager that wants to sponsor your move.
I found my hiring manager at an internal conference in Dallas in March 2018. We spent 3 days during that conference in the same working group, and only on the last night of the conference did we discuss me potentially joining her team. A couple of weeks later I flew into San Francisco for an actual interview with 2 team members and must have made a good impression. In April I got my official job offer and signed that offer the same day. This set off the whole immigration process.
Getting the L1/L2 visa
Although I had signed the job offer, we still needed a visa to be allowed to live and work in the US. I took a decent amount of paperwork. Even though it felt like an eternity back then, it only took us 2 months before we got our L1/L2 approved. We went to the US embassy in Brussel on June 20, 2018 and after a 5-minute interview, we had our visa approved.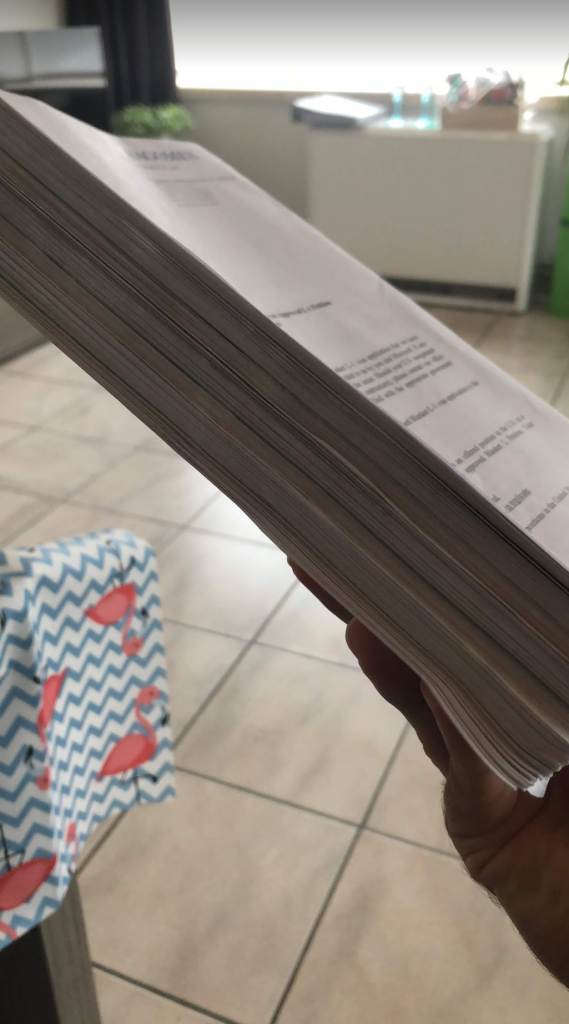 After getting the visa, we knew the time had come to move. We had already prepared a number of things but hadn't set a firm date yet (given we weren't sure we would get the visa). We boarded a plane in Brussels on July 26, 2018 destination San Francisco (with a layover in Amsterdam), and our adventure really began!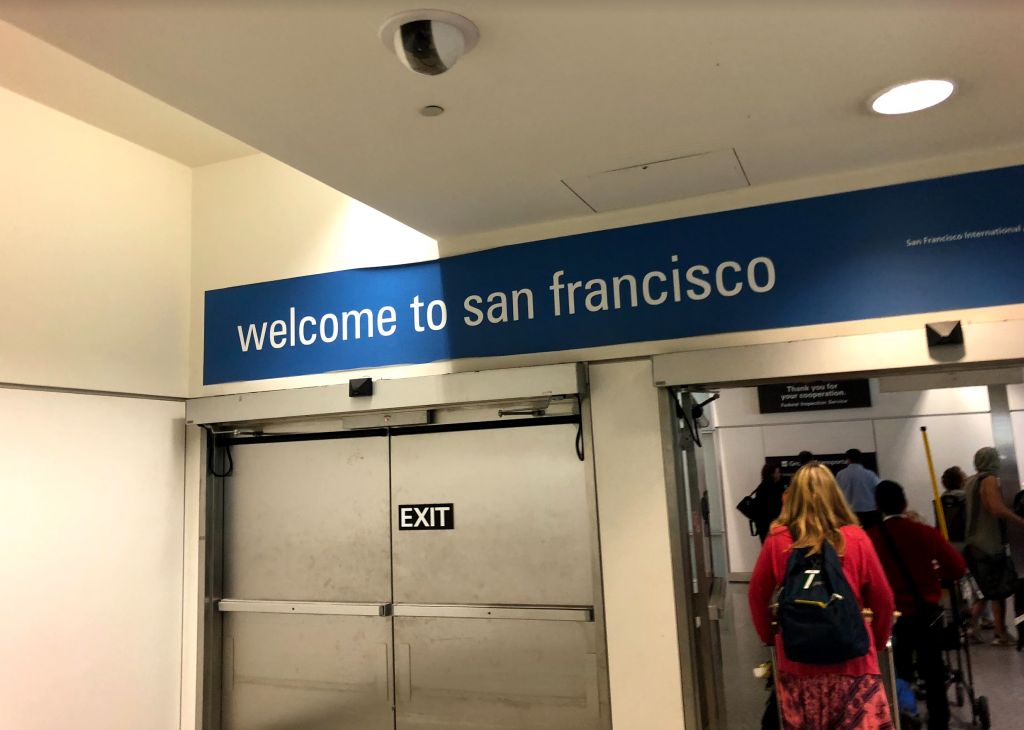 Settling in, and waiting for a work permit
We spent our first 4 days in the Bay Area in a hotel, waiting for our temporary housing. As part of the immigration package with Microsoft, we had gotten 2 months of temporary housing in a furnished apartment. Since that apartment wasn't available, we got to spend 4 nights in the Hilton in Mountain View.
The temporary housing was nice, but we couldn't really make it home since we knew we'd only stay for 2 months. We started looking for our own apartment (renting) in September and found a nice place in Santa Clara. We moved in 10 days later, and finally had a place to call home.
Very quickly after arriving in the US, we had started the process to get a social security number and to apply for a work permit (called EAD) for my wife. Without this, she wouldn't be allowed to work in the US. The application was submitted about 2 weeks after we arrived. The waiting period ended up taking until December for her to finally get her work authorization. The initial EAD was valid for 2 years.
What sucked most about this process is that she actually had a job lined up based on a connection she had from her work in Belgium, but couldn't start without the work permit.
Starting the green card process
In November 2018 Microsoft had reached out to me mentioning they were about to start the green card process for my wife and me. The first step here is to get a PERM or labor market certification. For this, I had to get reference letters from my previous employers (Microsoft in Belgium and Dimension Data), and fill in more paperwork.
Labor market certifications come in waves/batches. The date your PERM was submitted is called your priority date, which will be critical for submitting your AOS (AOS = adjustment of status, the process to get a green card).
In the end, my PERM was submitted in June 2019, which also became my priority date. My PERM was approved in September 2019. This meant we only had to wait for my priority date to become current. That happened in December 2019, which is when my AOS was filed.
While filing for the AOS, Microsoft also filed for an EAD/AP combo. The EAD is the same work authorization I mentioned before that my wife needed to work. An AP (advance parol) is a special procedure to allow you access back into the US after leaving. (I believe your AP is even valid after your visa has expired, but I'm not sure about this). While waiting for your AP, you shouldn't leave the US.
Changing jobs will mess up immigration timelines
In July 2019 I was approached by somebody in Microsoft that was building a new team at corporate. He was wondering if I would be interested in joining his team. I was excited about the opportunity and decided to go through the interviewing process. I learned a lot in the process, and even wrote a document explaining my vision for the team and the role. In the end, I even made it through the interviews successfully.
The hiring process took a couple months, and in the meantime, my PERM was approved in September. I checked in with Microsoft immigration about the impact of taking this job on my visa and green card process. If I were to take the new job, I would have to start over again with a new PERM, and that would set back timelines by an additional couple of months.
In the end, I decided not to take the new role because of the immigration complexities. I was OK with pushing back timelines by a couple of months, but I was not OK with being stuck in the new job. Given my visa was only valid for 3 + 2 years, I would have had to stay in the new role until I got my green card or risk having my visa expire.
In the whole green card process, this is my biggest regret. The new job really excited me, but given it was a totally new team and a totally new role for me, I couldn't take the risk of either not liking the job or not being good at the job. Without the immigration sword hanging over my head, I would have taken the job without blinking. If I didn't like it or if I sucked at it, I could always look for a new role; but due to immigration timelines, I decided to not take the risk.
COVID-19 messed up our timelines, big time
Our AOS and EAD/AP combo were submitted in December 2019. In February, my wife and I were invited to go to USCIS and have our fingerprints taken. For the initial appointment time I was traveling (domestically), so I had to reschedule. There was no issue with having my wife and I take separate appointments for fingerprints.
After our fingerprints were taken, we got our EAD/AP combo card in March 2020. This was a positive for my wife particularly, since the new EAD was valid until March 2021, beyond the initial expiration of her initial EAD card.
We were waiting for an invitation to go to a green card interview, but COVID-19 totally messed that up. In March everything closed, including USCIS offices. We never got an actual invitation, but the online follow-up system of USCIS mentioned that our scheduled interview was canceled.
It took until October 2020 for us to hear back from USCIS. We got a request for Evidence, requesting medical paperwork, proof of employment and proof of our marriage. The immigration lawyers at Microsoft said this was a good sign, indicating we might not even need an interview. The paperwork might substitute if UCIS found it sufficient.
This again was a ton of paperwork, the more the better. We went to a civil surgeon to fill out the required medical paperwork, we had friends notarize affidavits proving they knew we were married, submitted marriage pictures, joint leases, joint bank account etc. We submitted all that paperwork by the end of November.
And then, like a Christmas miracle, we got a letter in the mail notifying us that our green card application had been approved and we would be allowed to stay in the country.
Summary
My wife and I both are super happy we finally have our green cards. If you're reading this and also waiting for yours, I hope our story helps with understanding the process and what you might go through.